Please select from the options presented below to create your Wire-O Bound Books (punched a wire coiled) for printing. When you are happy with your selections, click 'Add to basket' to finalise the order.
Trim Size
If the size you require is not listed, for quote purposes select the nearest size up from that you need. When ordering advise us of the size required.
Inner Mono/Colour
Orientation
No Pages
Cover Printing
Cover Paper
Cover Lamination
Special Cover Finishes
Binding
Perfect Binding is a widely used soft cover (paperback) book binding method. With this binding method, the pages and cover are glued together at the spine with a strong yet flexible glue. The cover and inner pages are then trimmed flush.
Casebinding (Hardback) A method of binding in which the cover is made separately but consists of rigid boards covered with printed paper, cloth or other material, in such a manner that the covering material surrounds the outside and the edges of the board. Covers always project beyond the trimmed edges of the text pages. PPC = Printed paper Case. CBJ = Cloth (Wibalin), Block and Jacket.
Wire-O Colour selection
Files supplied as
We work from files supplied as print ready PDF. One file for the cover with the correct spine set up (we can supply the spine width, please call for this 01525 621742). The other for the inner in single page order (Not as spreads) from page one to the back, with all fonts and images embedded. 3mm bleed must be allowed if the print runs to the edge of the page. If you need assistance with file preparation please call for advice.
Proof Options
We recommend a loose printed proof. This is to ensure you are happy with the printed result before full production commences.
We recommend a loose printed proof. This is to ensure you are happy with the printed result before full production commences.
ISBN Services
ISBN is required only if you wish to sell through retail and distribution channels. You will need to allow 6 copies from your order to be sent to The British Library, and Legal Deposit Libraries. For example if you order 100 copies we will send you 94 and the remainder will fulfil the ISBN legal requirements.
Delivery
For Non UK deliveries please request a quote separately. Prices are based on weight and zone of destination.
Quantity
Minimum order: 10
Order within the time below
Subject to proof approval being made by return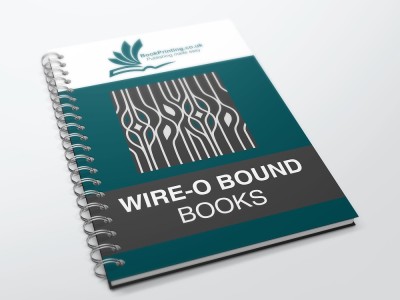 Product Description
Wire bound book printing are perfect for booklets and guides that get regular use or need to be long lasting. Wiro binding is a popular choice for manuals, reports, activity books and presentation documents. Their design means pages can be completely folded round or double pages can be layed out flat.
We can supply wire bound books to meet any requirement. Our innovative online ordering system allows you to choose detailed print options and you'll then see an instant print quote. From here you can proceed to order online.
Order now to get
Subject to proof approval being made by return
Total:
£

£

+ VAT
Order now to get
Subject to proof approval being made by return
Total:
£

£

+ VAT